New England Patriots - Training Camp Notes
With training camp opening across the country, I had the opportunity to head down to Foxboro and get a first glimpse of what the Patriots will look like this year.
Overall
If I had to sum it up in one word, that word would be rusty. Some of that is to be expected, it is after all the first week of training camp. Brady threw a bad pick on day 3 and there was certainly some sloppy route running throughout camp which, thankfully, got better as the days progressed.
One obvious reason for pointing out the rust is that Tom Brady is 41 and we've seen a number of quarterbacks fall off the proverbial production cliff at his age. In a redraft league I'm probably not worrying about it all that much where his ADP of round 6 appears reasonable. However, in dynasty formats where his ADP is still round 6 this is probably the year I look to unload him. In typical Bill Belichick fashion, I'd rather unload a year to soon and prep for the future.
Situations That Bear Watching
Rob Gronkowski
To me, Gronkowski looked himself out there, dominating smaller linebackers and defensive backs and making excellent blocks on goaline running packages. What was interesting to me was to hear Greg Bedard, a very prominent Patriots reporter go on to 98.5 The Sports Hub and say Gronkowski "didn't look like he was having the greatest time in the world". (37:30 mark in link) Couple that with all the off season shenanigans of is he retiring, is he going to the WWE as well as several rumors about his contract being reworked prior to camp on Thursday(and then that not happening), makes this worth monitoring during preseason.
It's certainly a remote chance but Belichick has a history of late preseason trades and it would not shock me to see him move on from Gronk at the risk of losing him for nothing in the offseason. Gronk would still remain TE1, his skill set doesn't change, but who's throwing to him would which could cause some dip in production if he were to be moved.
The Running Backs
The Patriots have what feels like one to many running backs in camp this year. Sony Michel is their 2018 first round choice so we know he won't be going anywhere, Rex Burkhead is arguably their most versatile back and has a year in the system, and James White is an ultra talented pass catcher who most likely will fill some of the void left by Julian Edelmans absence the first four games of the season.
What this leaves, sans some obvious cutable or practice squad players, is Brandon Bolden, Mike Gillisle, and Jeremy Hill. Bolden plays special teams giving him some leverage in making the 53 man roster which leaves Gillisle and Hill.
Prior to Thursday my money would have been on Gillisle to get cut with his play trailing off last year as well as an injury. But after watching them in camp, Gillisle looks healthy and quick, running a lot of plays with the first team, especially at the goaline, while Hill mixed in more with the second team and special teams. Part of that can be attributed to him learning the system but for me one of these two is going to get cut and the other is going to get the bulk of the goaline work. In touchdown dependent leagues the winner of this battle is going to be the guy you want if you are targeting a Patriots back.
For Sony Michel, he fumbled in his first padded practice Saturday, an issue he struggled with in college and one this coaching staff has no patience for. I've witnessed them bury veteran running backs for the same thing. He'll certainly mix in and split out wide, especially during Edelman's absence but his ADP is much to high and not worth the risk with so many mouths to feed in New England. You can have Sony in the late 4th or early 5th or you can have Rex Burkhead in the 7th. Give me Burkhead all day.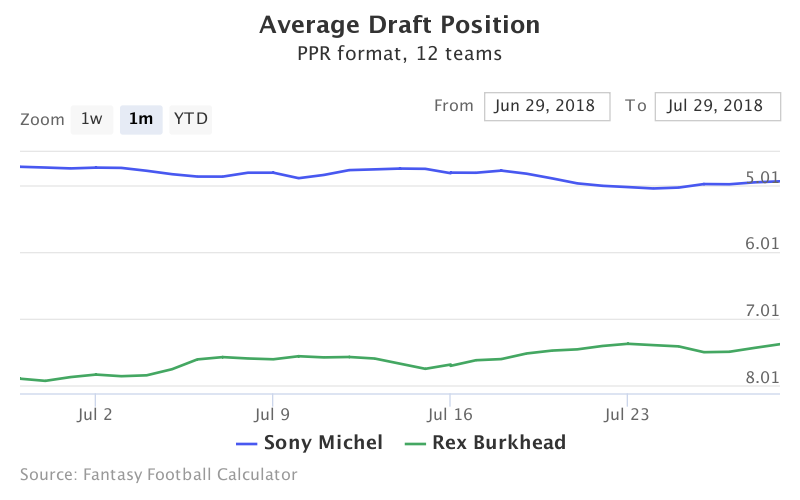 Julian Edelman
Watching Julian Edelman these last couple of days you would have no idea he was coming back from a torn ACL. The man looks downright electric. The best part is, he's coming at a steep discount due to his 4 game suspension but this receiving core is so thin he's in for a big workload as soon as he gets back. His current late 6th round ADP is downright criminal for what you are going to get. Not including 2017 where he was injured, check out his stats dating back to 2013:

In 2013, 2014, and 2016 when he played full seasons he never dipped below 134 targets and hovers right around 100 catches for 1,000 yards and 4 touchdowns. In a PPR league you're looking somewhere around 224 points but his current ADP suggests somewhere much lower, around 134 points. Again, what this fails to take in to account is the weak receiving core. Malcolm Mitchell already had to undergo another knee surgery this week, Jordan Matthews came up limp Sunday with what is hopefully only a minor hamstring issue, and Kenny Britt is still rehabbing. Buy Edelman at his low ADP while you can.
Riley McCarron
One last one to keep an eye on from a dynasty perspective is Riley McCarron. He was on the practice squad last year after being released in early September by the Texans. He's this years Austin Carr, for those of you who follow the patriots closely. Carr lit up the preseason last year, was ultimately cut, and scooped up by the Saints where he's been on their practice squad. The Patriots certainly could have used Carr last year when Edelman went down and I believe this will present a nice option for McCarron to show what he's got this preseason and make a case for playing time during Edelman's absence.
McCarron is gritty, giving 100% on every play during practice. He's build much like Edelman (and Amendola for that matter) and given Edelman's age, could be seen as his replacement. He's quick and ran sharp routes during camp, making some outstanding catches. Right now he's been working a lot with the 2's and on special teams but I believe with some preseason game action he may move up the depth chart. He's certainly a deep waiver wire sleeper to keep an eye on as the preseason roles on.